Founding Program Director: STRIDE Treadmill Studio
In the summer of 2016, I was invited to help create and build a new fitness studio concept in Pasadena called STRIDE. Co-Founders Misa Dugally and Katie Ownbey had written the business plan and found a location for this treadmill group fitness studio, but they needed a third partner to head up programming and coaching. I happily accepted and we began the journey of building STRIDE, which opened its first location in Pasadena in January 2017.
Stride offers treadmill-based HIIT and strength-training classes perfect for any level of walker, jogger or runner. Stride coaches lead you through a workout where you choose the speed and intensity. Classes are sound-tracked with electrifying, body-moving music. Participants wear Polar heart-rate monitors to track undeniable results and maximize their potential in each workout. Clients love us for our our intense workouts and our positive, welcoming community. We're not only interested in the physical transformations available through running, but also the spiritual and emotional joys that come through movement and community.

fitness videos
As a kid, I watched my mom's 1980s Jane Fonda VHS tape workouts and played along, lifting soup cans instead of weights. I didn't play sports or think of myself as athletic growing up, but I did love home workout videos and had a collection of tapes in the 90s (thank you, Billy Blanks and Denise Richards and Paul Abdul!)
It seems only fitting that I now create video content for others to workout to at home with providers like MegaMace and Sweat Factor by Mike Donavanik. I love how the format allows for a sense of individual connection with the viewer. I tend to rely on my sense of humor to keep workouts fun and engaging.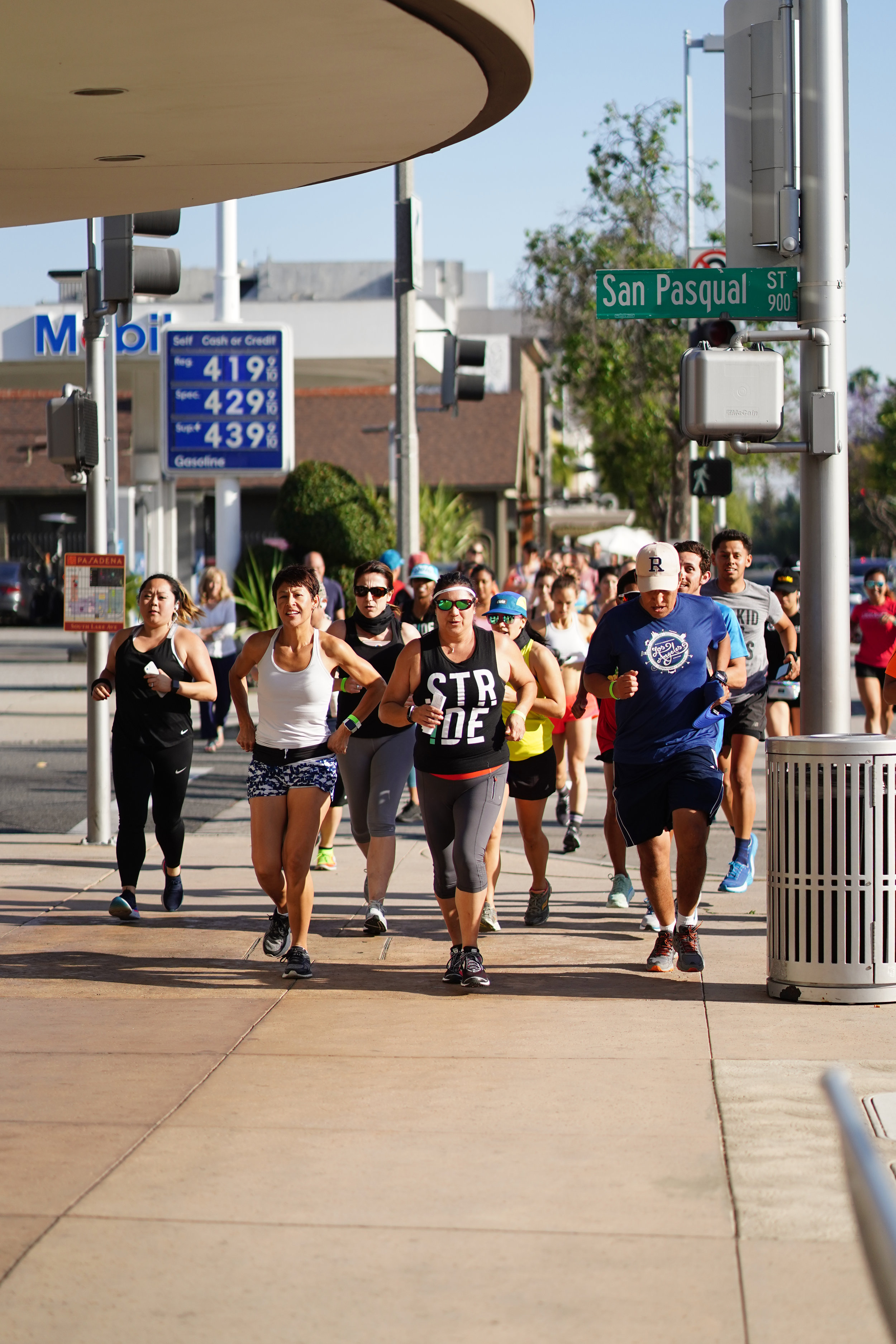 Founder: global running day pasadena
In 2017, I partnered with the Dog Haus Run Club to create a fun, free event where the Pasadena community could celebrate Global Running Day. Together with STRIDE and all of our local running groups, we created this annual fun run and raffle-prize contest through Pasadena. Participants collect raffle tickets along the route by completing tasks and trivia at each stop. Through community partnerships, we offered dozens of prizes that could be won in the final raffle drawing. The route starts and ends at STRIDE Treadmill Studio in Pasadena.
We had over 400 runners and 15 vendor partners participate in the 2nd Annual Pasadena Global Running Day in 2018.
fitness modeling
I've had the pleasure of working as a fitness model for awesome brands like Equinox and lululemon. I love group fitness, running, cardio boxing, Muay Thai, and lifting heavy things. Growing up, I identified as an artist and a bookworm - the idea of being physically powerful and strong never seemed possible. I'm eternally grateful that I discovered the joy of celebrating strength and movement. Below are a small selection of photographs from recent photo shoots.